Do you like to draw or paint scenery, buildings, landscapes? These excursions will:
• Increase your ability to detect the nuances of light, shadow, colors and depth.
• Learn how to paint or draw quickly to capture the essence of what you are seeing.
• Be inspired by the work of other students as we paint together at 2 meters apart.
• Explore Edmonton and surrounding parks in new ways.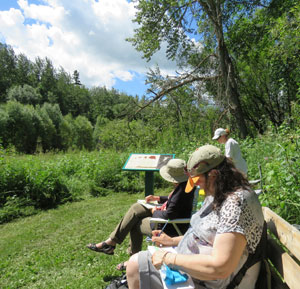 We are meeting up once a week at different locations in and around the surrounding countyside near Edmonton. The dates for the next 2 weeks are set based on the weather forecast.
Tuesday, Aug 25 Mill Creek Ravine. 10 am Meet at my house. (sign up for details)
Thursday, Sept 3 - 10 am
Sign up to receive the email notification of date, time and place for that week. RSVP your spot for the date. $20 each, for each session. You can bring the cash to the meeting place.



Each session will include:
10-15 min walking in to the locations
At least one 5 min sketch to warm up, and practice looking for the essence of what we are painting. These will mostly be in pencil.
15 min color sketch with pencils or watercolor
1+ hour watercolor or watercolor pencil painting
Watercolor Plein Air Painting Kit. Travel light.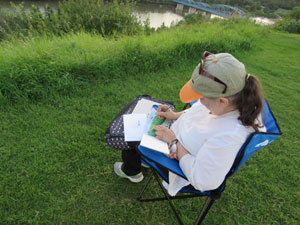 Portable/closable small watercolor pallet (with a red, blue, green, yellow, and deep purple)
At least one small round brush, and one ½ in. flat brush
Watercolor sketchbook
2H Pencil (and an 8B if you have one with a smugder/stomp)
Eraser
Lid (to put water in)
Small flask of water
Masking pen/ masking fluid with lid and toothpick and or q-tip
Small piece of natural sponge
A little bag or container of salt
Rag
Camera
Something to sit on (portable chair or blanket)
(hat, sunscreen, bug repellent, snack, hand sanitizer, mask, water bottle)
Optional:
Waterproof pen
Watercolor pencils.
Possible locations :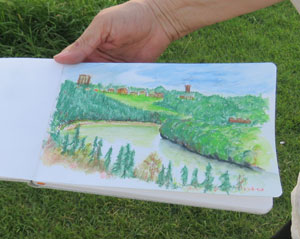 Flowers in Cloverdale (July 10)
Chickakoo Lake (July 17)
Overlooking the river valley where McNally High school sits above the blue Dawson bridge. (July 20)
Telford Lake (Leduc) (7/28)
Old Barn -Canola field ((8/6)
Hay bales in fields (8/11)
Stone Barn Garden (Leduc) (8/17)
Millcreek Ravine (Tuesday, 8/25, 10 am)
Cooking Lake /Blackfoot Prov rec Area

Waskahegan Staging Area
Islet Lake

Strathearn – overlooking 98 Ave hill looking downtown.
Terwillegar Footbridge over the North Sask. River
Sherwood Park Natural Area
Elk Island
South Cooking Lake Park
North Cooking Lake Natural Area