Mark your calendar for the next
Art: Vocabulary For the Soul Retreat
June 23-25, 2023.
---

Art: Vocabulary For the Soul Retreats: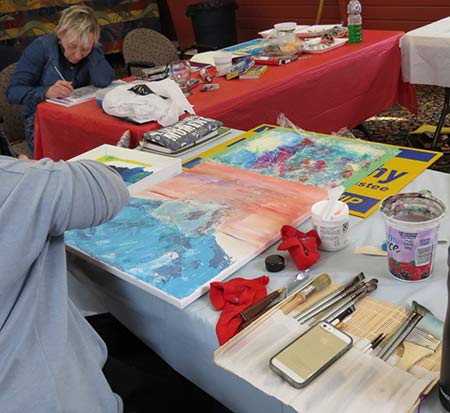 Connecting with God Through the Arts
Do you have a creative inclination? Are you looking for new ways to connect and listen to God?
Tap into your hidden depths as you still your heart amidst the beauty of God's creation, quiet your spirit to listen to scripture, and respond with art: painting, drawing, writing, poetry and/or music. Whether you regularly practice art or not, this creative, restful retreat will nourish your soul.
This spiritual art retreat is for you if you want to
Tap into your hidden depths
Try something new
Renew your spirit
Listen to what God has for you
Enjoy time in the foothills of the rockies
Work on the art medium of your choice: i.e. drawing, painting, writing, poetry, song writing, etc.
Meet new like minded people
All levels of art experience are welcome
We create the space for you to listen and respond to God the Creator with the art medium of your choice.
Spiritual Direction is offered during the retreat.
Retreat Presenters:
Artist Julie Drew, and Sam Drew, Spiritual Director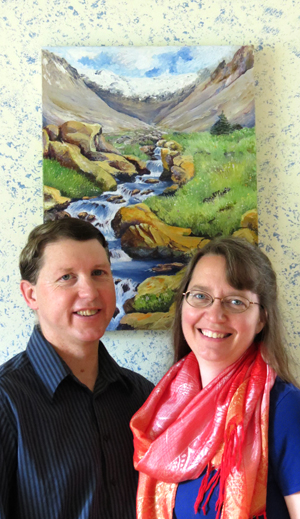 ---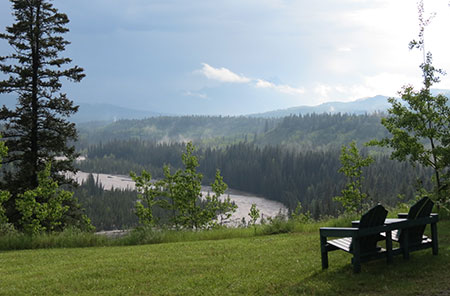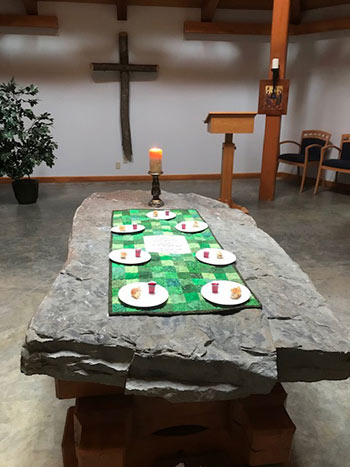 When, Where, and Cost
When:
June 23 - June 25
5 p.m. Friday to 3 p.m. Sunday
Where:
King's Fold Retreat Centre, near Cochrane, Alberta
Cost:
$470 +GST for a shared room. .
$560 +GST for a single room.
Early Bird special $50 off until March 17, 2023.

Bursaries and Payment Plans Available through Sam and Julie This email address is being protected from spambots. You need JavaScript enabled to view it.
Offline payment options:
Send an email to This email address is being protected from spambots. You need JavaScript enabled to view it. or This email address is being protected from spambots. You need JavaScript enabled to view it. for offline payments by etransfer, in person payments (in Edmonton), payment plans and bursary requests.

General Schedule for the retreat
Art: Vocabulary for the Soul Brochure
Art: Vocabulary for the Soul Poster

What to bring to the 2023 art retreat
Cost covers accomodation in a beautiful location, 2 meals and a snackbar on Saturday, 1 meal with a snackbar on Sunday, and the program. Bring own dinner for Friday night's meal.
Limit of 12 people in our group. Social distancing measures will be in place to follow the Alberta protocol.
Note: Current Covid Protocols at King's Fold
The Alberta Government protocols for Covid-19 have now changed. The Restrictions Exemption Program is no longer in place at King's Fold. However, we will still be screening guests and ask that if you have any cold symptoms or symptoms mirroring those of Covid-19, or if you have been a close contact to a confirmed or suspected case of Covid-19, please choose to retreat at another time. Masks are still required in all public spaces. Thank you! (Updated February 9, 2022)
Refund Policy: Refunds of all payments except the $50 non-refundable deposit available until May 25, 2023. No refunds after May 25, 2023. ***If the retreat is canceled due to Covid-19, you will be given a choice of a full refund or putting your payment toward another retreat or class.***
---
Our retreat from June 2020 (click link to see images and reflection on the June retreat) went well with the social distancing protocols that King's Fold had in place. It was lovely to have that space to get out of the city and take that creative time with God together. We look forward to sharing that again with a new group in June 2023 to enjoy the spring colors in the Ghost River valley.
---
Comments from Past Participants:
"Julie and Sam,
Thank you so much for hosting a lovely, restful weekend at King's Fold. I feel like I did a lot of creating... poetry and journaling and art. Through that, God and I also did a lot of soul work. I really appreciate how you two tie both together so the act of creating becomes an act of worship and an act of healing....For ourselves and others." - M. Bell, Participant"
Julie is a gentle teacher and can help anyone with experience in the arts, or someone who is just beginning to let art into their lives. Julie also writes poetry and songs and uses those as part of the weekend retreat to enhance the creative process. She teaches respectfully, knowing that we all are creative in some form or another, and that it is to God that our creativity is lifted first."- H. Seargeant, Participant
Register Now!