GrowingDeeper.ca Presents
Art: Vocabulary For the Soul Retreat:
Connecting with God Through the Arts
November 9-12, 2018

November Theme: "An Adventure in Seeking God..."
Do you have a desire to grow deeper in your relationship with God, rooting your heart and life more in God and his love (Jeremiah 17:7-8)? We will be looking at, discussing and listening to scripture around this theme and responding with art.
Join us for the November retreat. Sign up today! The early bird special ends on October 21, 2018.
Time : Friday, 4:00 pm to Monday, 2 pm
"

Recently, I had the privilege of joining a dozen fine folks at King's Fold Retreat Centre, just outside of Cochrane, Alberta, for a weekend of faith and art. Julie and Sam Drew have been leading Art: Vocabulary for the Soul workshops for a number of years and I cannot imagine a better place to put creatives in touch with their Creator."(Read the full blog post:

Photos from Art: Vocabulary for The Soul)


Posted by

Bleeding Heart Art Space

on Monday, July 18, 2016
Do you have a creative inclination? Are you thirsty for God? Do you think: "How can I use my creativity to connect with God?" How do you listen to God, hear his voice? Are you looking for new ways to connect and listen to God?
This Spiritual Retreat is for those who want to connect with God. Whether you are an artist or writer or just curious to try something new, we are all able to connect with God creatively. Students will be encouraged to create in the art of their choice -- painting, writing, photography, dance, etc. Instruction for watercolor and drawing will be provided for those who desire it. Supplies are available for a nominal fee. Coaching for the other painting mediums and writing will also be available. There will be solitude and group time in the schedule. New Location: Covenant Bay Bible Camp is a beautiful location on Pigeon Lake, Poplar Bay, Alberta.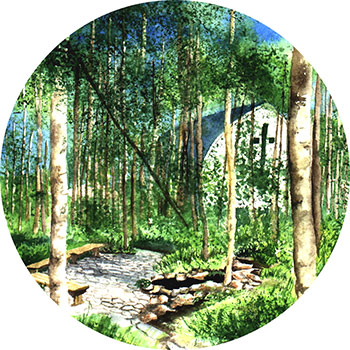 Covenant Bay Prayer Garden
Retreat Presenters:
Artist Julie Drew, and Sam Drew, Spiritual Director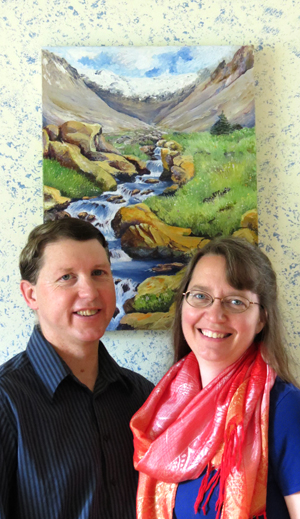 Cost for the November Retreat:
$265 shared room - early bird price good through October 21, 2018, for the November retreat
$300 shared room - after that early bird deadline
Payment Plans Available
Refund Policy: Refunds of all payments except a $50 deposit available until Oct. 9, 2018
No refunds after Oct. 9, 2018

Art Vocabulary For the Soul Poster

Art Vocabulary for the Soul Retreat-Brochure

November 9-12, 2018
Time : Friday, 4:00 pm to Monday, 2 pm
Covenant Bay Bible Camp, Accommodation Lodge, on Pigeon Lake, Poplar Bay.