"Clip,clop. Clip,clop." Imagine our surprise as this buck came around the corner...
1 There is a time for everything,
and a season for every activity under the heavens:
2 a time to be born and a time to die,
a time to plant and a time to uproot,
3 a time to kill and a time to heal,
a time to tear down and a time to build,
4 a time to weep and a time to laugh,
a time to mourn and a time to dance,
5 a time to scatter stones and a time to gather them,
a time to embrace and a time to refrain from embracing,
6 a time to search and a time to give up,
a time to keep and a time to throw away,
7 a time to tear and a time to mend,
a time to be silent and a time to speak,
8 a time to love and a time to hate,
a time for war and a time for peace.
- Ecclesiastes 3:1-8 New International Version (NIV)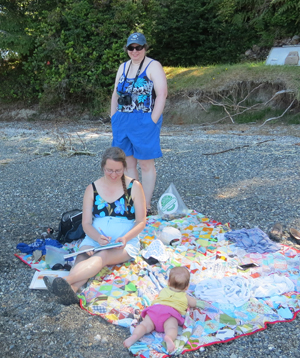 Last week, Sam and I took some time with our daughter, Reena. We went to a vacation rental on Herron Island in the Puget Sound. We also met up with our son, his wife, our grandbaby, my parents and my sister. What a fun island to explore and a wonderful place to enjoy each other's company! There were a lot of deer on the island that were not afraid of people. I still can't believe a buck came up on the deck and tried to join us for dinner! I even got in a little plein air painting on the two beaches. It was a time to celebrate together!
After our visit, we went our separate ways. Sam and my way was to take Reena to the airport (at 3 am) where she was off on an adventure to South Korea. She will be attending school there, grade 11, for a year. She begins school on Monday, August 22.
It is strange to not have her at home, this is a new season for us with our youngest gone. Our other daughter is still at home, but she is independent with her own vehicle and job that keeps her busy. I miss Reena, but I am excited for her too. It is kind of bittersweet.
With all of these changes, it is good to remember, as Ecclesiastes 3:1-8 describes, there is a season for everything. This isn't forever and something else will change. As I learn to walk in the present moment, I can take things as they come, not worrying about the future or agonizing over the past.
The following poem and painting I did when our oldest son, Thaddeus, was in Capernwray Bible School in England. It seems fitting with our youngest so far away in South Korea.
Empty Nest, Winter of my Soul
Changes.
New things come, old things pass.
It is hard to let go.
It is hard to say good-bye to what was,
Treasured moments; the good, the bad
Yet
letting go is part of living.
It is part of loving.
There will be new beginnings;
New memories;
New changes.
Such is the circle or spiral we live in.
We cannot hold on to the present.
It must fly
Away.
And the empty nest
is the memory we have left.