When I was a little girl, the Christmas angel visited our home on this day while we were at church and left us each a gift. I remember the feelings of surprise and wonder and joy.
Joy is a word we hang on our Christmas tree and in decorations. We sing about it at Christmas. It is more than happy. How would you describe joy?
Joy is soul deep. It is happiness and contentment, a rightness to the universe, a "God is with me and I have nothing to fear, " all wrapped up together and tucked deep in my soul. For me, joy bubbles up and overflows when I allow myself to be present to a situation even in sorrow. It can show up in the form of tears, song, inspiration, confidence and a smile.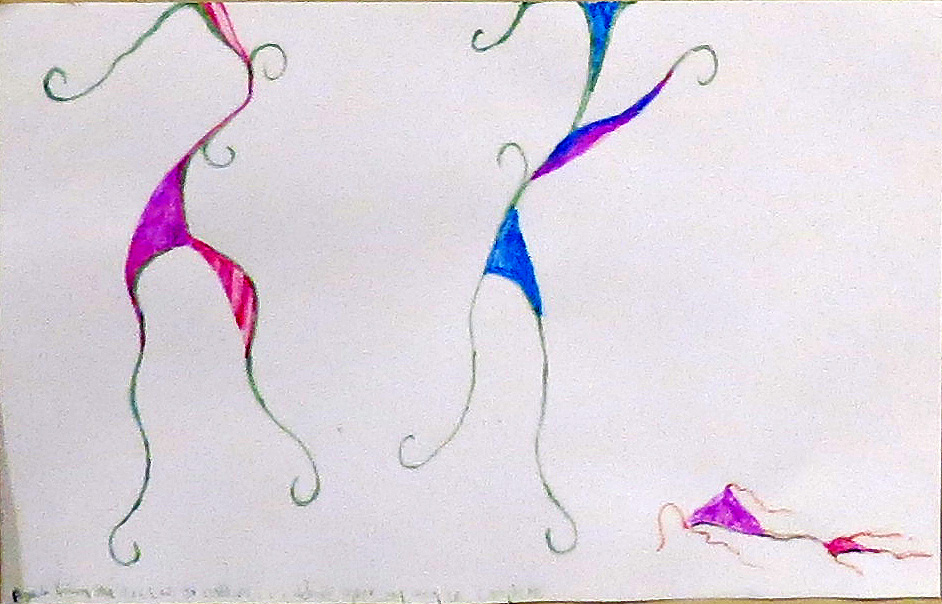 After the June 2017 Art and Faith retreat, I explored what joy looked like. Our theme at the retreat was "Abiding in Jesus." Linnea Good, our guest leader, shared her biblical storytelling with us. As she told the story of John 15, we listened for what the Holy Spirit was illuminating for us in the passage, what stood out. We listened twice and then we responded with drawing or painting.
I started with thinking about the phrase Jesus said, "…Apart from me you can do nothing…"
I started drawing shapes that had a sense of being attached at the top of the page, connected to God. As I drew, the shapes took on vine like people shapes and developed joyful lines. I felt this sense of joy associated with the abiding and attachment. I thought how hard life is when I choose to do things on my own. It can be exhausting like the poor exhausted, deflated figure on the right side of the drawing.
When I felt I was finished, I felt from my little figures this sense of joy that the second phrase spoke of: "…that your joy may be complete…"
When I came home from the retreat, my little joy characters intrigued me. What would it be like to let them dance across a few paintings?