"Mom! Mom! Wake up! You said you would go with me. I got an Aurora red alert. You said to wake you up!" Reena whispered as she shook me awake.
I dragged myself out of bed, threw on more layers and drove out with Reena east of Edmonton into the frigid -28C to see what we could see.
We started to see them as we drove past Sherwood Park. We looked for a place to pull over and got out of the car for a better view. Beautiful dancing lights!
As I watched the lights dancing a set of vertical bands of pink, white and peach traveled from one side of the sky to the other amidst the luminescent greens. Amazing! Inspiring!
Reena's phone captured the best photos. Here are a couple of them.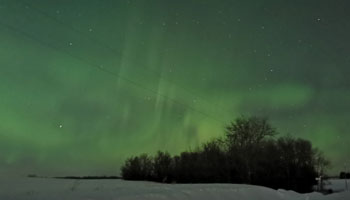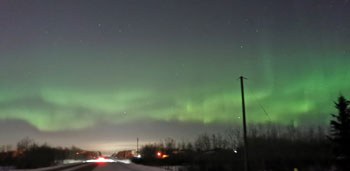 Since then, I have been working on some northern light paintings in watercolor. As it was so cold the night we saw the Aurora Borealis, and it was so cold in the couple weeks following, I felt it was appropriate to try the frost paintings again.
Frost pattern paintings are something I try every year when the temperature is low enough. I put a wet watercolor painting outside until it freezes. It works best with temperatures below -8C. It was in the range of -25C to -40C with the windchill.

Here are some of my works in progress. I have the ground (trees or snowscape) to put in yet on these. The first one here had the best most distinct frost pattern.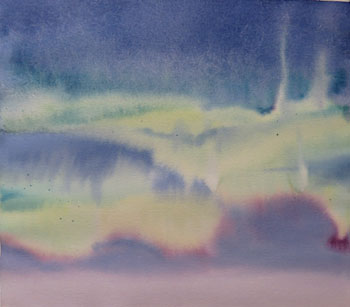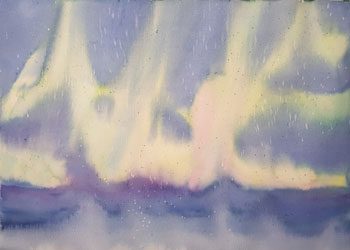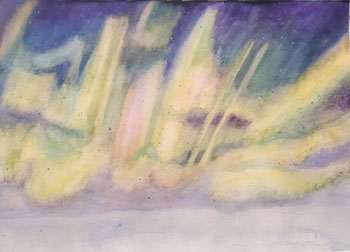 Here is a section with a frost pattern: You will have to look closely to see it.