Steadfast, immovable, rock solid, secure, my refuge. This is my God. Now put this together with the mountains playing hide and seek in the clouds and mist. Those mountains are still there, whether I can see them or not, just like God. Steadfast, immovable, rock solid, secure, my refuge. This image of "Steadfast" is one of the metaphors God showed me when I was working on my God is My Refuge series about ten or so years ago.

Whenever I see the mountains this way I am reminded of this metaphor of who God is and where I can run to when my soul and heart ache and when I am at peace and filled with joy and contentment. The state of peace and contentment was what I felt as we drove through the mountains on our way home from Kimberly, BC and our May long weekend holiday, taking scads of photos of the mountains playing hide-n-seek in the clouds.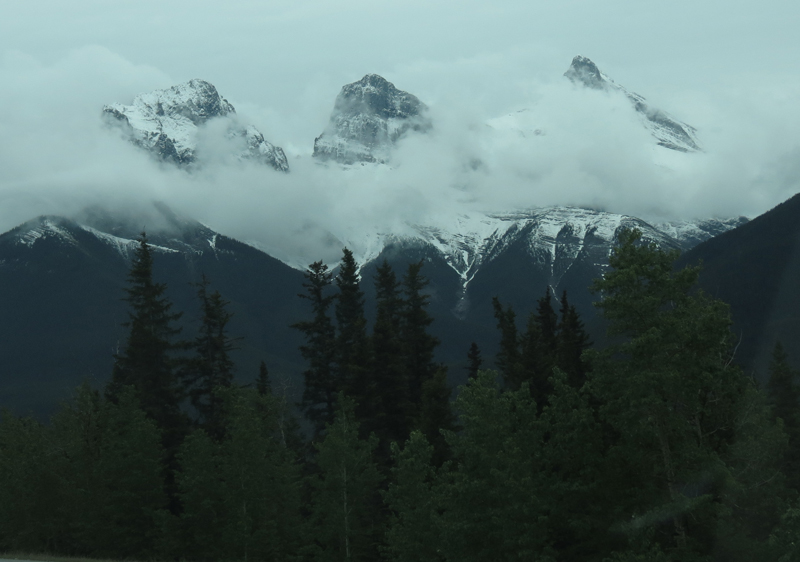 I don't have to be in distress to run to God. (Read an excerpt of my God is My Refuge devotional book on this chapter here.)
He wants to just "be" with me, to fill me up to overflowing with his love and presence. I don't have to wait until I am so stressed and upset that I run dragging myself to his presence. In fact, he isn't so far away. I am learning to find contentment in just "being" with God, but it isn't easy. I get caught up in productivity, and my long list of "to do's."
(This "being" is for me a new perspective, just like The Three Sisters Mountain photo to the right here is - Three Sisters mountain in Banff different angle of the same mountain in the painting above.) Are the clouds just my own busyness, my own distractions, my own fears and doubts that keep me from seeing His steadfast presence right here and right now? With me?
What clouds are obstructing your view of God and his rock solid presence in your life?
I'd love to hear your thoughts.