One of the things I like to do in the summertime is to go out sketching and painting "en plein air."

En plein air (French pronunciation: [ɑ̃ plɛn ɛːʁ]), or plein air painting, is a phrase borrowed from the French equivalent meaning "open (in full) air". It is particularly used to describe the act of painting outdoors, also called French: peinture sur le motif ("painting of the object(s) or what the eye actually sees"), where a painter reproduces the actual visual conditions seen at the time of the painting. This method contrasts with studio painting or academic rules; those might create a predetermined look. (Wikipedia)

It is different to paint from life than just using photos. Photos tend to flatten the image. When I hike, I take a camera and at least a small sketchbook, much to my family's chagrin. (I had to learn to sketch quickly and take photos on the go, but I seem to be perpetually lagging behind. After all I had an agenda – capture as many ideas/ photo references as possible.)
Even so, it is nice to be with people who don't mind sitting still for a bit. I have a friend who invited me to Kananaskis Country several times. 3- 5 days of hiking and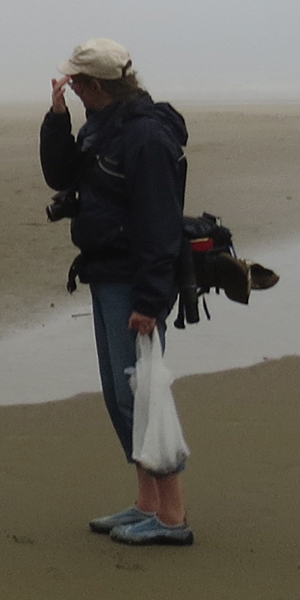 painting and relaxing with no one waiting for me to get done. On these occasions, I would pack up a backpack full of supplies and carry them the distance and come home with a mostly finished painting.
When hiking, I want to get a great picture or idea – and capture it. I would come home with hundreds of photos (with digital photography it is thousands of photo references!) and a few sketches for the depth perception. From these, I start planning paintings. I sometimes go on a hike with a specific idea for which I am seeking sketches and photo references.
I enjoy taking the time to sketch, but it isn't just the need to paint what I see that draws me to the outdoors. I have learned that sometimes it is nice to even just sit and absorb the beauty without trying to draw it. It feel's a bit like I'm "drinking" in God's creation. There are so many metaphors in creation that lead back to God. In the stillness of just being present, as I sit and listen and wait in quiet, I can hear and see the metaphors and things that God is whispering to me.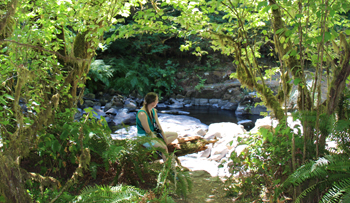 For God alone my soul waits in silence… Psalm 62
It has been a long journey, this learning to wait, to enjoy moments, not to be rushing on to the next thing to do or paint. For me, it is a process of letting go of agendas, of accomplishment, and of worrying about making the people around me happy with me. At times, I fall back into the old patterns, but I am learning to recognize this in myself. On a hike I don't take quite so many photos, and I sit and absorb as much as I sit and draw/paint.
A couple of years ago, my husband, Sam, and I took a trip to Europe. Since we were flying, I had to find compact art supplies that I could take on the plane. Traveling light. Now it is my art/camera travel bag for wherever I am going – hiking, road trip etc. I can even pair that down to a smaller size and take just the essentials.
This Saturday morning (July 23), I will be teaching en plein air on the banks of the North Saskatchewan River in Devon. I will be teaching sketching as well as painting: how to capture what is before us; what to paint, what to leave out; and eye training. There is still room in the workshop, if you would like to come.
Are you curious about what is in my art-camera bag?