Registration for all the classes are on the movelearnplay.Edmonton.ca website then click>registered programs>arts programs>adult programs> art programs then the classes are alphabetical. I put the class code with each class that may work in the search. ALTERNATIVELY, you can call 311 to register. There are similar class titles by other instructors. Check the time and instructor information as well.
Classes starting in May
Pouring Watercolour: Painting Techniques- Class Code: 704195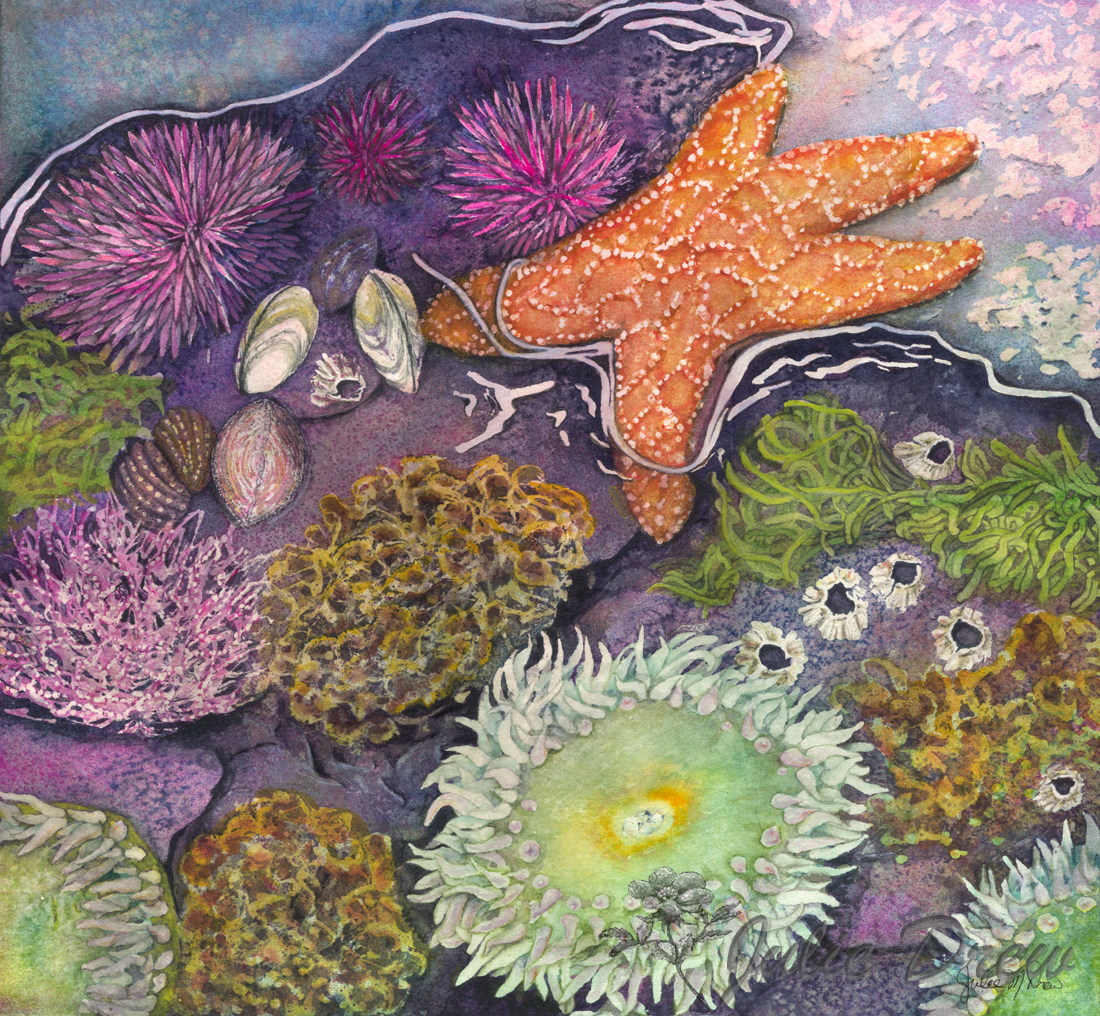 (8 sessions)
May 2-June 20 (Monday) Location: Terwillegar Rec Centre: 2051 Leger Rd NW, Edmonton
1-4 pm
cost $148.75

Pouring Watercolor Class Supplies and Class Outline
Take your watercolour to new levels with pouring watercolour paintings and working with layers. Explore the techniques of watercolour in new ways using the natural world as inspiration. Video sample of the pouring process. Watercolor Skills: masking, pouring, working with layers and salt,composition, working with the results-listening to the painting and trusting the process. Click here for A step by step blog post on the process with the painting, Wonders of the Sea,
Acrylic Painting Explorations- Class Code: 705037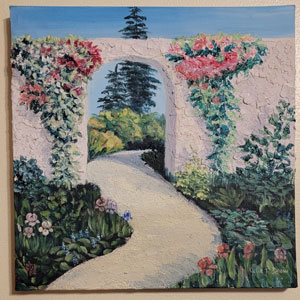 (8 sessions) See what other classes have done here
May 3-June 21 (Tuesday) Location: City Arts Centre: 10943 83 Ave NW, Edmonton
1-4 pm
cost $170

Acrylic Explorations Supply List and Class Outline
The first two classes we explore the paint and color: color mixing, color themes as we work with getting used to the brushwork. The next three classes we explore adding textures to the painting with addons such as eggshells, and sand as well as collage elements such as handmade paper and transfers. We will spend one session pouring acrylic and the last two classes students continue to explore the acrylic medium in the direction they found most interesting using their own photo references and exploring their own creativity.
Oils 1 & 2- Class Code: 704201
(8 Sessions)
May 5-June 23 (Thursday)
6:30-9:30 pm
cost $170

Oil Painting 1 and 2 Supply List
Enjoy painting with colour intensity and explore the fact that you can make endless revisions with oil paint. During this weekly course learn how to incorporate various brush strokes and mark-making, play with colour mixing, and get to know the painting medium in general. Taught by artist Julie Drew.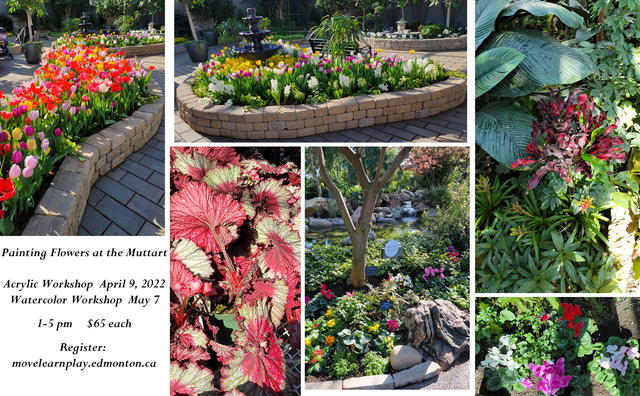 Painting Flowers at the Muttart: Watercolour Workshop- Class Code: 705025
Location: Muttart Conservatory
May 7 (Saturday)
1-5 pm
cost $65 - CLASS FULL - Waiting List only
All Supplies included
Capturing the beauty and translucence of flowers in watercolour is the focus of this class. Through demonstrations, learn to paint petals, leaves, and backgrounds using a variety of techniques. Several techniques, colour suggestions, and basic composition strategies will be included. You will complete this workshop with the know-how to continue painting flowers.
Classes starting in June
Plein Air Sketching Workshop: John Janzen Nature Centre- Class Code: 705031
Location: John Janzen Nature Centre
June 4 (Saturday)
12-4 pm
cost $65
All Supplies included
Enjoy the outdoors with a sketchbook and drawing tools in hand. Spend the afternoon at the John Janzen Nature Centre sketching en plein air (in the open air). Artist Julie Drew will teach you that it is much different to draw from life than just using photos, what our eyes can see is so much more than a photo can capture.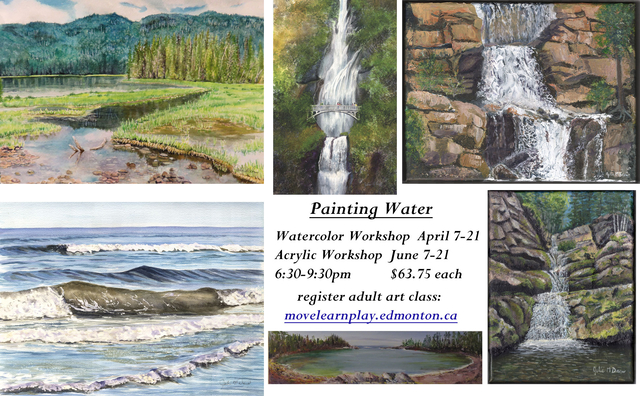 Painting Water: Acrylic Workshop- Class Code: 704245
(3 sessions)
June 7- June 21 (Tuesday) Location: City Arts Centre: 10943 83 Ave NW, Edmonton
6:30-9:30 pm
cost $63.75

Painting Water Acrylic Workshop Supply List and Class Outline
How to capture water in your painting when it is always changing? Water is translucent, reflective, ever-moving, calm, turbulent, flowing. Why not take a few days to study how to paint water? This is a great class for painters who like to do scenic paintings from photos or to paint outdoors and who need to practice 'getting water right'.
• Gain confidence in painting the movement water.
• Learn effective tricks that will enhance your scenic water landscape paintings.
• Increase your ability for taking the next step with your painting as you work from your photo references.