I like Summer. It's a time to rest from the busyness of the year, a time to take a break, hike, travel, try something new, and meet a new friend.

This summer I took a break and traveled down to the San Francisco Peninsula, where I explored the natural scenery, and had time to paint, rest and visit with some family. A lot of my time was my own as my husband, Sam, was busy taking courses on Enneagram training. The weather was beautiful. We were fortunate that all the smoke from the forest fires stayed north of us, but we certainly got our fill of it coming home.

My cousin Nate and his wife, Karen, generously opened their home to us for a part of our stay. They have landscaped a beautiful garden with paths and raised garden beds. I found one flowering bush, a Red Tiger Abutilon, particularly enchanting. And one day as I sat in the garden painting the Tiger's blooms, I heard him. He made a clicking noise, and I looked around to see a humming bird flitting from flower to flower on the other side of the Tiger. He was curious, too. He even came and looked me over, fluttering just three feet away! My camera was right next to me, but he wasn't ready for that yet, and zipped away as I reached for it.

I decided to go a little slower, to get to know him first. I learned his song, and when I started to hear it I reached for my camera even as I looked for him among the trees and flowers in their garden. He wasn't as shy this time, and even posed for me, letting me catch him sitting on a branch.

The next day I came again to his garden, taking time to just be still. I sat and I read, enjoying the beauty of the garden. And I waited. I waited for him to come to me. Forty-five minutes had passed when I heard his song. He came, dancing, darting, pausing in mid-air like a breath, flitting from flower to flower in the golden sunlight of the morning. And then he was off again, and it was my turn to breathe and wonder. So beautiful.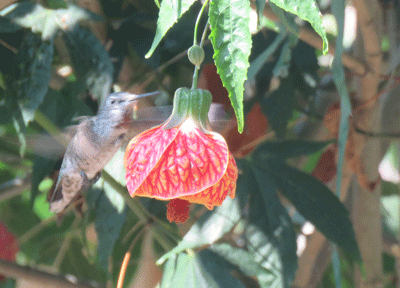 For me, the beauty and wonder of God's creation is part of his love song to us. In big and small ways nature speaks of God's great glory and love, and I particularly enjoy first hand experiences like these.

And I also love it when I can capture nature's beauty on film so I use them later when I create with God in my paintings. I was dancing inside as I experienced each of the beautiful animals and places on our trip. Each one felt like a gift.
I saw elephant seals, California seals, egrets, hummingbirds, pelicans, deer and fawns, tide pools, the ocean, redwoods and lots of people. I took thousands of pictures, sketched and painted 'plein air".
Here are some of the paintings I started… or sketched...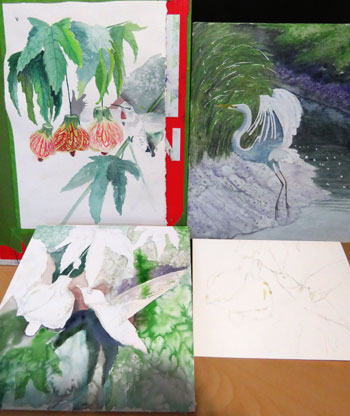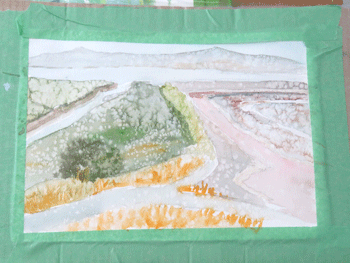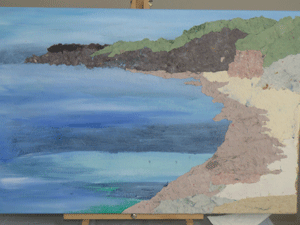 I look forward to sharing some of these new paintings when they are finished. Some of them are a perfect fit for the new show I will be installing at the Glenrose in late October: Flowers and Birds. Mark your calendars for Wed October 31 for a reception 2-6pm.