Listen to me, you who pursue righteousness,
you who seek the Lord:
look to the rock from which you were hewn,
and to the quarry from which you were dug.

Look to Abraham your father
and to Sarah who bore you;
for he was but one when I called him,
that I might bless him and multiply him.

Awake, awake, put on strength,
O arm of the Lord;
awake, as in days of old,
the generations of long ago.
Was it not you who cut Rahab in pieces,
who pierced the dragon?

Was it not you who dried up the sea,
the waters of the great deep,
who made the depths of the sea a way
for the redeemed to pass over? Isaiah 51:1-2, 9-10
Remember your past, remember the rock from which you were hewn...
50th Anniversaries are interesting. My parents had their 50th wedding anniversary this past August. This past summer, I have been working on a commission to do a watercolor painting of a church for their 50th anniversary celebration which took place last weekend. At both celebrations, it was a time for sharing stories, memories, and the ups and downs, humorous and serious. We don't always see what is going on in a moment, but in celebrations like this we can look back and see how God has moved among us. It has been a privilege to paint Cross of Christ Lutheran Church for the deaf for their 50th Anniversary celebration and be part of what God has been doing there.
I started out by taking a number of photos to see how best to capture the essence of the church. I took them home and realized I would need to draw onsite as the trees covered too much of the building in the photographs. So, I set up my easel and started work on it. I thought about the stories I had heard and worked to capture some of them. I left out the branches that hid the building with it's beautiful stone work, the stained glass window of Jesus healing the deaf man and the courtyard with the three crosses. I worked in the dancing shadows of the surrounding trees. I thought of what God had been doing here, the many people that worshiped here, the lives that were touched and changed and the light this church has been to the deaf community over the last 50 years. It was beautiful to be a part of it in a small way.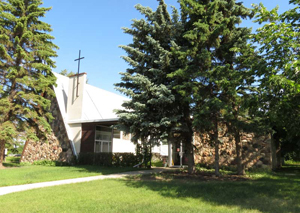 I have mentioned before that I have been on a journey with a small group at the Urban Sanctuary. I have been looking at the patterns and stories that make up myself, and last spring I reread some old journals I had kept during highschool and university. Like the anniversaries, it was a way to revisit memories - good and bad, old hurts and confusion. As I read, I realized that I had been hiding myself from my own self like those trees in the painting. In fact, I found my memories were worse than they actually were in the journals. Yes, I made mistakes and wasn't perfect, but I could love myself and accept who I was and who I am. It is in embracing our memories and facing our truths that we can become more of who God created us to be. It is taking away the branches of facade I put there to hide myself - and expose me - so that I can learn to be myself - to not hide who I am. And in remembering, I could more clearly see how God has woven himself into the story and walked with me through this journey. Now I can see the direction he is leading me - and I am able to hold on to him a bit more - as I remember who He is and what He has done for me.
In Isaiah 51, the LORD, is calling the righteous to remember- remember who they are, to remember Abraham and Sarah, and to remember who God is. We are like the Israelites. We need to take time to remember who we are, to uncover what we have hidden and remember who God is.