Registration for all the classes are on the movelearnplay.Edmonton.ca website then click>registered programs>arts programs>adult programs> art programs then the classes are alphabetical. I put the class code with each class that may work in the search. ALTERNATIVELY, you can call 311 to register. There are similar class titles by other instructors. Check the time and instructor information as well.
Classes in August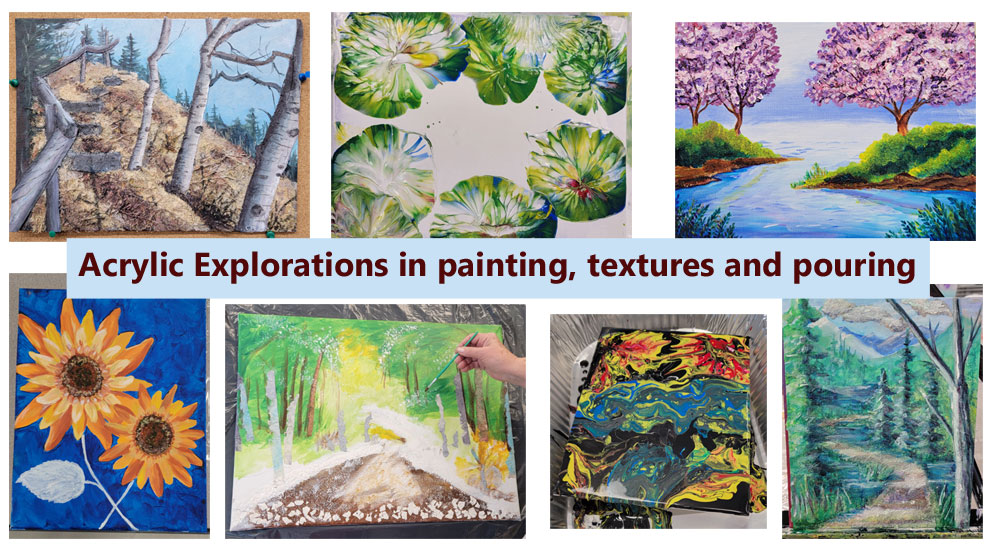 Acrylic Painting Explorations - Class Code: 723541
See what other classes have done here
4 Wednesdays, August 9-30, 2023
6:30-9:30 pm
Location: Terwillegar Recreation Centre, 2051 Leger Rd NW, Edmonton, AB T6R 0R9
Cost $92
Explore the possibilities with acrylic paint with artist Julie Drew during this weekly class. To begin, gain knowledge in paint and colour by learning about colour mixing and themes. After getting used to brushwork and paint handling, then experiment with adding textures and inclusions: eggshells, sand, and collage elements such as handmade papers and transfer techniques.
Students can expect material costs to be between $50 - $200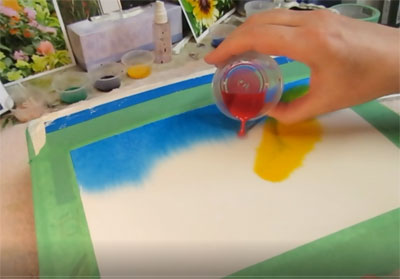 Pouring Watercolors: Painting Techniques - Class Code: 723592
Adult Art Camp - Monday - Friday August 14-18, 2023
1-4 pm
Location: City Arts Centre: 10943 83 Ave NW, Edmonton
Cost $142.50 ALL MATERIALS INCLUDED
Take your watercolor to new levels with pouring watercolours and working with layers. Explore the techniques of watercolor in new ways using the natural world as inspiration. During this 4 week program with artist Julie Drew you will learn a vast range of watercolour skills such as: masking, pouring, working with layers and salt, painting in details, composition, and working with the results – listening to the painting. This course is perfect for those who are starting out with watercolours or are looking for an expressive technique or for those with previous painting experience looking for a new style and inspiration.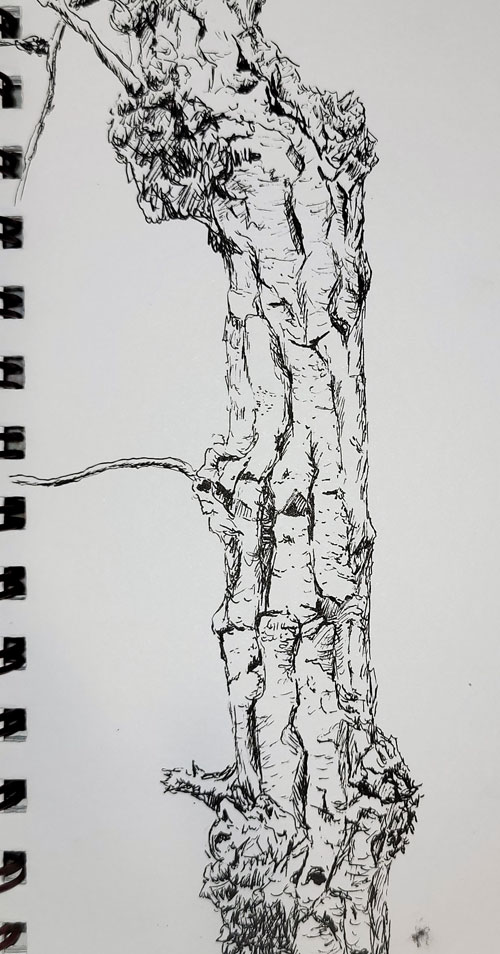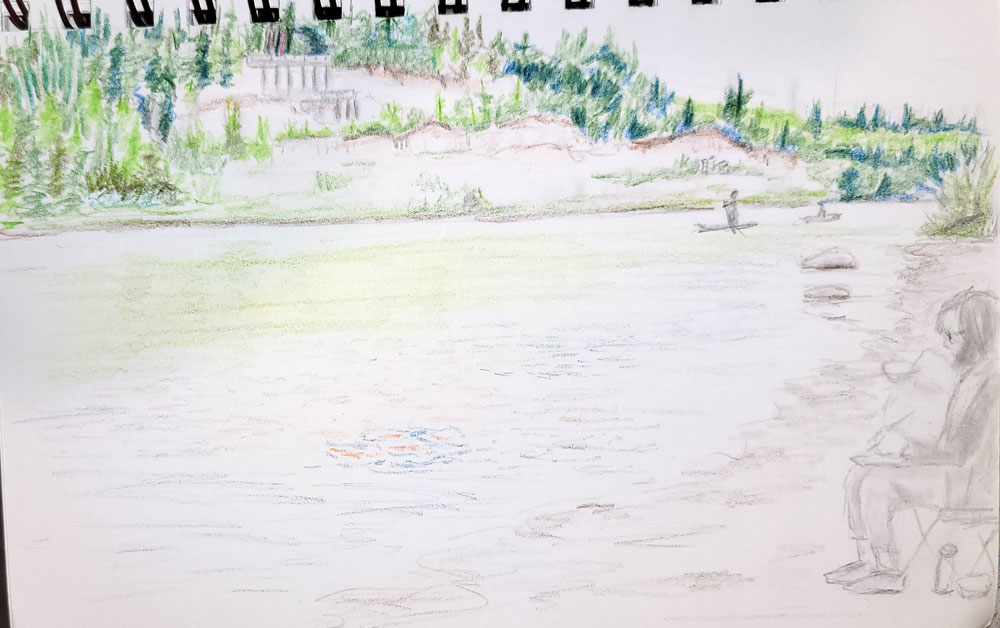 Drawing Nature in the River Valley - Class Code: 723555
4 sessions Tuesdays August 8-29, 2023
6:30 pm-9:30 pm
Location: location: Yorath House, 13110 Buena Vista Rd NW, Edmonton
cost $96 All supplies are included
It is different to draw from life than just using photos. Artist Julie Drew will teach you that what our eyes can see is so much more than a photo can capture. This weekly class at John Janzen Nature Centre will have you experiencing your Sunday mornings seeing and sketching the scenes around you while learning important drawing skills and techniques. Each week you will spend time enjoying nature with a sketchbook and drawing tools in hand. Spend your mornings among nature sketching en plein air (in the open air) and being indoors drawing artifacts from the collection. All supplies are included;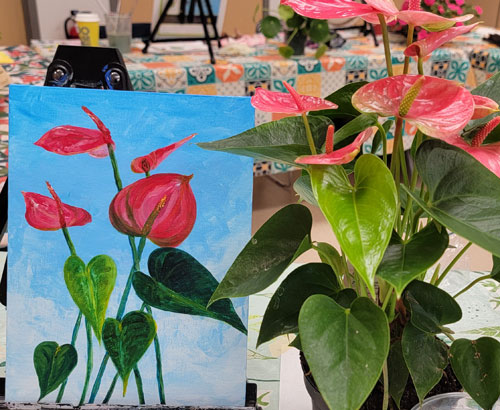 Painting Botanicals at the Muttart Conservatory: Acrylic Workshop - Class Code: 723579
2 Thursdays, August 24 and 31, 2023
6:00-9:00 pm
Location: Muttart Conservatory, 9626 96a St NW, Edmonton, AB T6C 4L8
Cost $80 ALL MATERIALS INCLUDED
Capture the beauty and translucence of flowers and variegated plants in acrylics during this two evening workshop at the Muttart Conservatory. Through hands-on demonstrations from artist Julie Drew, learn to paint petals, leaves, and backgrounds using a variety of painting techniques. Be guided through several techniques, colour suggestions, and basic composition strategies as you come away with the know-how to continue painting botanicals with acrylics. Have the opportunity to take photos of your favourite flowers and plants to use as inspiration to paint for later on!
Classes coming in the Fall:
Autumn landscapes in the River Valley: Drawing and Painting - Tuesdays, Sept 19-Oct 10, 6-9 pm (Yorath House)
Fall Colours Watercolour : Drawing and Painting Explorations - Fri. Sept 22-Oct 27, 1-4pm
Acrylic 1&2 - Wed. Oct 4 - Nov 22, 6:30-9:30 pm(City Arts Centre)
Painting Botanicals at the Muttart: Acrylic Workshop -Thurs. Oct 5 &12, 6-9 pm
Acrylic 1&2 - Fri. Oct 20 - Dec 8, 6:30-9:30 pm (Dr. Anne Anderson Community centre)
Sketching at the Zoo - Sun. Oct 22 - 10 am -3pm
Painting Botanicals at the Muttart: Watercolour Workshop Thurs. Oct 26 & Nov 2, 6-9 pm
Acrylic Painting Explorations - Fri. Nov 3- Dec 5, 1-4 pm(City Arts Centre)
Fall Colours Pouring Watercolour; Painting Techniques - Thurs. Nov 2 - Dec 7, 1-4 pm (City Arts Centre)
Hand painted Holiday cards: watercolour and Ink workshop - Sun. Dec 3, 9:30 am-12:30 pm(Muttart)
Poinsettia Painting at the Muttart: Watercolour Workshop - Thurs. Dec 7 & 14, 6-9 pm