Finally finished! I started this one before Christmas. Some ideas just take longer.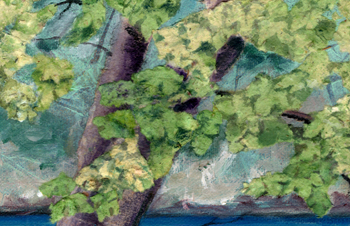 This painting is another one of Plitvice Lakes National Park. The theme is again of Saturation. There is so much water everywhere that the gnarly roots spread wide and far before dipping below the surface. The water was clear. The trees bowed, and turned and spread their branches wide showing off their adornment in shades of green. It was glorious and I wanted to capture all of that.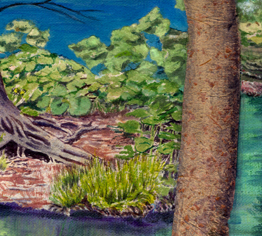 I was experimenting with putting my handmade paper on the canvas again. This time I wanted the paper to be the land and trees in foreground on top of the cliff where the water pools before falling over the edges. I used different papers for the different parts of the landscape. I used an onion skin paper for the middle ground on the left and some of the tree trunks on the right. The center clump of trees and ground was a paper with hints of peach fabric and thistle. The tree on the left and the one on the right edge are from a thin, light gray paper with red and blue threads. The foreground corners and bottom edge are from a pink paper made with poplar seed, red, bue and purple and white threads. The leaves are from a yellow and green cottonwood seed paper.
I painted acrylic on the canvas as the background and the water. I painted watercolor and watercolor crayon on the handmade paper.
Saturation: Above the Falls Painting Status