South Korea is a beautiful, mountainous country.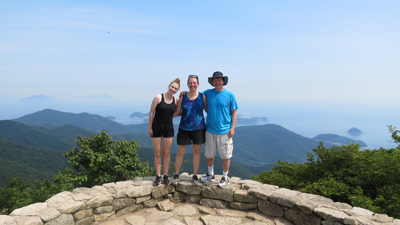 What a fun adventure to travel and meet up with our daughter, Reena, who had been living with host families and attending grade 11 in South Korea for 11 months. We experienced her fluency as she conversed with the people around us as we traveled, shopped and ordered food. We even spent an energy filled sports day with her school, which was a peek into the Korean culture.
We learned to say the greeting phrase and the phrase for "thank you." We stayed in people's homes with airbnb. We ate with chopsticks. We took the public transportation in the cities and we rented a car for the last week to go into the countryside with a Korean language GPS system that Reena got to type in the destinations in Korean.
I took 15-30 minutes here and there to sketch and do mini watercolors in my watercolor sketchbook. From these and the phots I will be able to create new artwork in my studio this year. Here are some of them...