In Newport, Oregon, there is a set of docks just for the sea lions/seals. There are maybe 50 or more sealions there. I don't know all the difference between harbor seals and sealions. At Yaquina Head there are harbor seals that looked lighter, grey and smaller than the ones we saw in Newport on the docks. The ones at Yaquina head were also quieter, lazily soaking up the sunshine until their rocks were getting covered with water.

While we were enjoying the antics of the noisy Newport sealions, an umbrella from a nearby restaurant went sailing off on the wind to land in the water 20 feet from the seals. As the sealions saw it flying toward them, they went ballistic, vociferously scrambling to get away from the "flying monstrosity." Most were in the water trying to peer over the docks at the umbrella – barking as if they were questioning each other: "what is it?" "I don't know." "Do you know what it is?" "Is it dangerous?" "Did you see that? It fell from the sky."

None of the sealions were brave enough to go closer to it. Some ventured back onto the docks, but most stayed in the water on the far side of the dock, barking their displeasure with mysterious flying and now sailing objects. Any time it floated closer the storm of barking and frantic movements escalated.

I don't know if the sealions resolved their situation. We left before the sealions had acclimated to the new norm.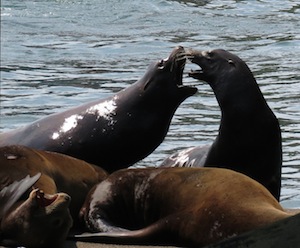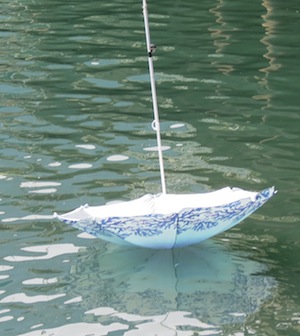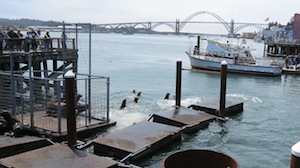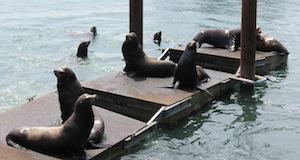 I am sometimes like that…letting my fears take over and control my actions. I am more afraid of failure than of the unknown, but it is still a fear that influences my actions. I laugh at the seals. I can see it is only an umbrella. My own fears seem large and monumental to me. From a different perspective, are my fears really just an umbrella. How can I see them from God's perspective, can I let go and trust him.
Isaiah 43:1-3 says…
But now thus says the Lord,
he who created you, O Jacob,
he who formed you, O Israel:
"Fear not, for I have redeemed you;
I have called you by name, you are mine.
2 When you pass through the waters I will be with you;
and through the rivers, they shall not overwhelm you;
when you walk through fire you shall not be burned,
and the flame shall not consume you.
3 For I am the Lord your God,
the Holy One of Israel, your Savior.
I am his. His own. I belong to him. He invites me into his embrace. From the security of his embrace, can I face my fears? Yes, for he is with me, he comforts me and protects me.
(painting: I am loved, acrylic, 20 in x 24 in)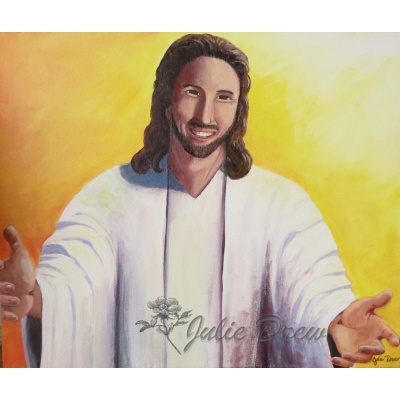 I am Loved ((2009 - Julie Drew)
I am loved
even in my sin...I am loved.
Pour Your Spirit on me
cleanse me, wash me
wash away my sin,
my selfishness,
my pain,
my self-righteousness,
my pride,
wash me clean,
white as snow,
make me whole,
to live,
to serve You,
to serve others.
I cannot contain this love.
Let it flow from me and touch others:
As You have forgiven me
may I forgive others.
Let it flow like a river
this love
this pouring of Your Spirit into my spirit.
Let it flow like a river
giving life where it goes
to keep it for myself
it would stagnate
but to share it gives life.
I am loved.