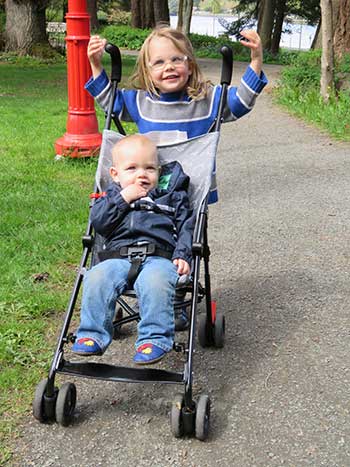 We were in Victoria over Easter visiting with our grandchildren and their parents. On Easter morning, we rose early. As the dawn began to lighten the sky, my own anticipation grew within me. My heart welling up in joy. Christ is risen, Indeed! I love the song I first heard Sandi Patti sing: https://www.youtube.com/watch?v=eb1ayV5sTtM
Was it a morning like this?
When the sun still hid from Jerusalem,
And Mary rose from her bed
to tend the Lord she thought was dead…
Did the grass sing?
Did the earth rejoice to feel You again?
Over and over like a trumpet underground
Did the earth seem to pound, "He is risen!"
Over and over in a never-ending round
"He is risen, hallelujah, hallelujah!"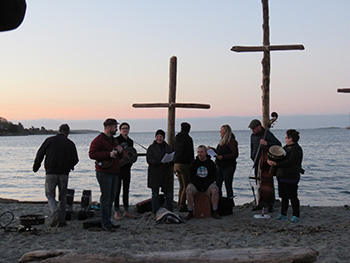 I sang most of the way on the 20-minute drive to the beach where several congregations gathered to share in greeting the sunrise with an Easter service of singing, praising God. It was a beautiful morning the clouds were a blushing rose hue. The Cascades across the Strait of Juan de Fuca were clear and bathed in pale pink. And as we sang the sun broke over the hills. Glorious!
The week before Easter, I reworked the painting: A New Covenant for a Painting Prayers session for Lent for a women's group. I was never quite satisfied with the part of the painting where the light was exploding out of the Holy of Holies "as the curtain was torn from top to bottom" (Matthew 27:51), so I fixed it. This moment in time is a glorious event - The curtain that separated us from the Holy of Holies, God's presence, was torn as Jesus breathed his last. It signifies a New Covenant that the old testament passage in Jeremiah refers to: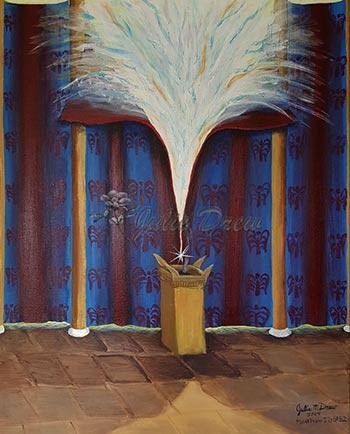 31 The days are surely coming, says the Lord, when I will make a new covenant with the house of Israel and the house of Judah…33 But this is the covenant that I will make with the house of Israel after those days, says the Lord: I will put my law within them, and I will write it on their hearts; and I will be their God, and they shall be my people. 34 No longer shall they teach one another, or say to each other, "Know the Lord," for they shall all know me, from the least of them to the greatest, says the Lord; for I will forgive their iniquity, and remember their sin no more.
We can be known and loved by the God of the universe. He will write it on our hearts, we can belong to him, know him. "I will be their God and they shall be my people." My heart sings glory and rejoices as it did on Easter morning.
Art is a work in progress. Is a painting ever finished? Maybe for a time. I put it in a mat, or get it framed and hang it on my wall, and I let it speak to me. I see things I didn't before. I see connections, stories. And I sometimes see ways to repaint it, or ways to take it further to a new idea, or to improve it. Often, my paintings are my "windows to God." Moments that I hear God speak to me in metaphor. I have shared some of that to you through my blogs and newsletters and in my book. Sometimes the same painting can speak to me differently than it did before. I may be done painting it, but the process continues with each person the painting connects with, like a story, that lives on with the retelling, with every person that it engages.
Like paintings, we are also works in progress.