Happy Easter!
Christ is Risen!
He is Risen indeed!
Spring is slow in coming this year. Well, I'm not sure it is any different than other years, but we had a teasing 20C day a week ago, which has made this past week feel even more cold with its sub-zero temps.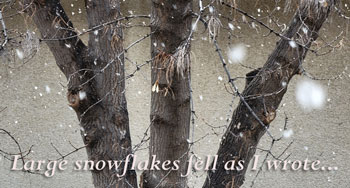 This wintry spring that doesn't want to let go brings to my mind the last verse of the Easter hymn, Now the Green Blade Rises:
"When our hearts are wintry, grieving or in pain, your touch can call us back to life again,
fields of our hearts that bare and dead have been; love is come again like wheat arising green."
(J. M. C. Crum 1872-1958, French Carol)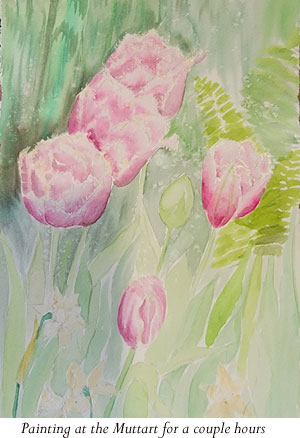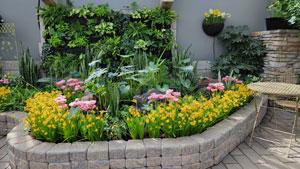 The beauty of flowers and the promise of spring lighten my heart. They bring the promise of new life, hope, and the renewal of love touching our wintry hearts and souls. A touch our world surely needs.
I contemplated these things as I sat in the Muttart Conservatory on Monday, delighting in the lovely scent of tulips and hyacinths and painting the fresh signs of spring while the cold wind blew outside.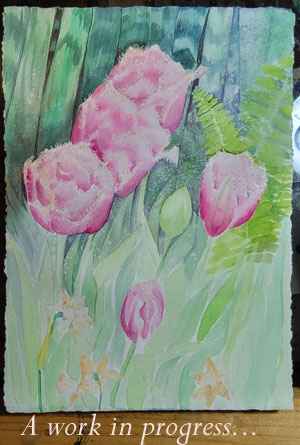 I continued to work on the painting a little bit more this morning, but it is still in progress. It is at the long stage of pushing and pulling, deciding what details to keep and what to abstract or suggest. The process cannot be rushed. Although I refer to the photos now and then, I also listen to the painting and let it help me decide where to take it. The delicate fringe of the frilled tulips is delightful to paint, but whether I saved the frilly whites well enough with the masking fluid I will not know until it is ready to be removed.
12 students learned to see the flowers in new ways and paint their favorites during the Acrylic Flower Painting workshop last Saturday at the Muttart. Here are some of their results: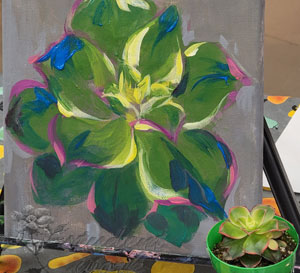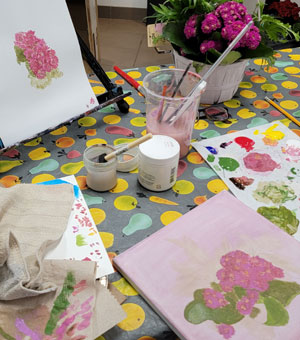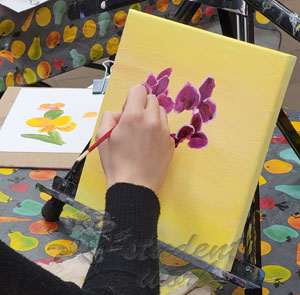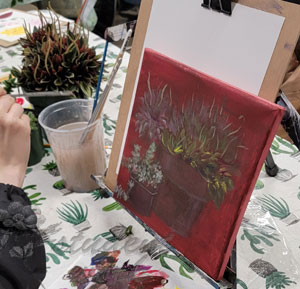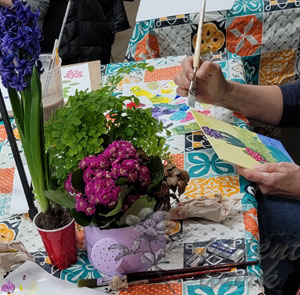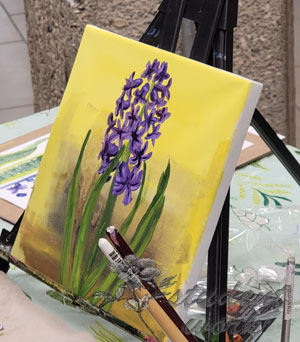 As people learn the creative process, regardless of the medium, I find I am always teaching them how to see this beautiful world in new ways and the nuances of light and contrast. It is all about seeing and trusting the process of painting as it unfolds.

New classes begin again in May and June 2022. Click here for the selection.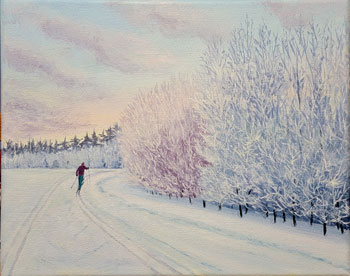 Even winter has its beauty. I completed this painting of cross-country skiing at dawn amidst the hoarfrost. Title suggestion? I loved that crisp morning with the light of dawn coming through the trees as we skied the field and enjoyed the magical hoarfrost sparkling and lighting up the trees. Medium: Acrylic on canvas, size: 14 in x 17 in.