Here are some paintings to contemplate on this weekend as we approach Easter...
Crown of Thorns (above)
And they clothed Jesus in a purple cloak; and after twisting some thorns into a crown, they put it on him. And they began saluting him, "Hail, King of the Jews!" They struck his head with a reed, spat upon him, and knelt down in homage to him. After mocking him, they stripped him of the purple cloak and put his own clothes on him. Then they led him out to crucify him.
The inscription of the charge against him read, "The King of the Jews."
Mark 15:17-20, 26
Take a close look at the Crown of Thorns (otherwise known as the Christ plant) that comes from Africa. If you look at its red flower you can see the hint of a cross and the blood red center – and the green leaves of life (and resurrection).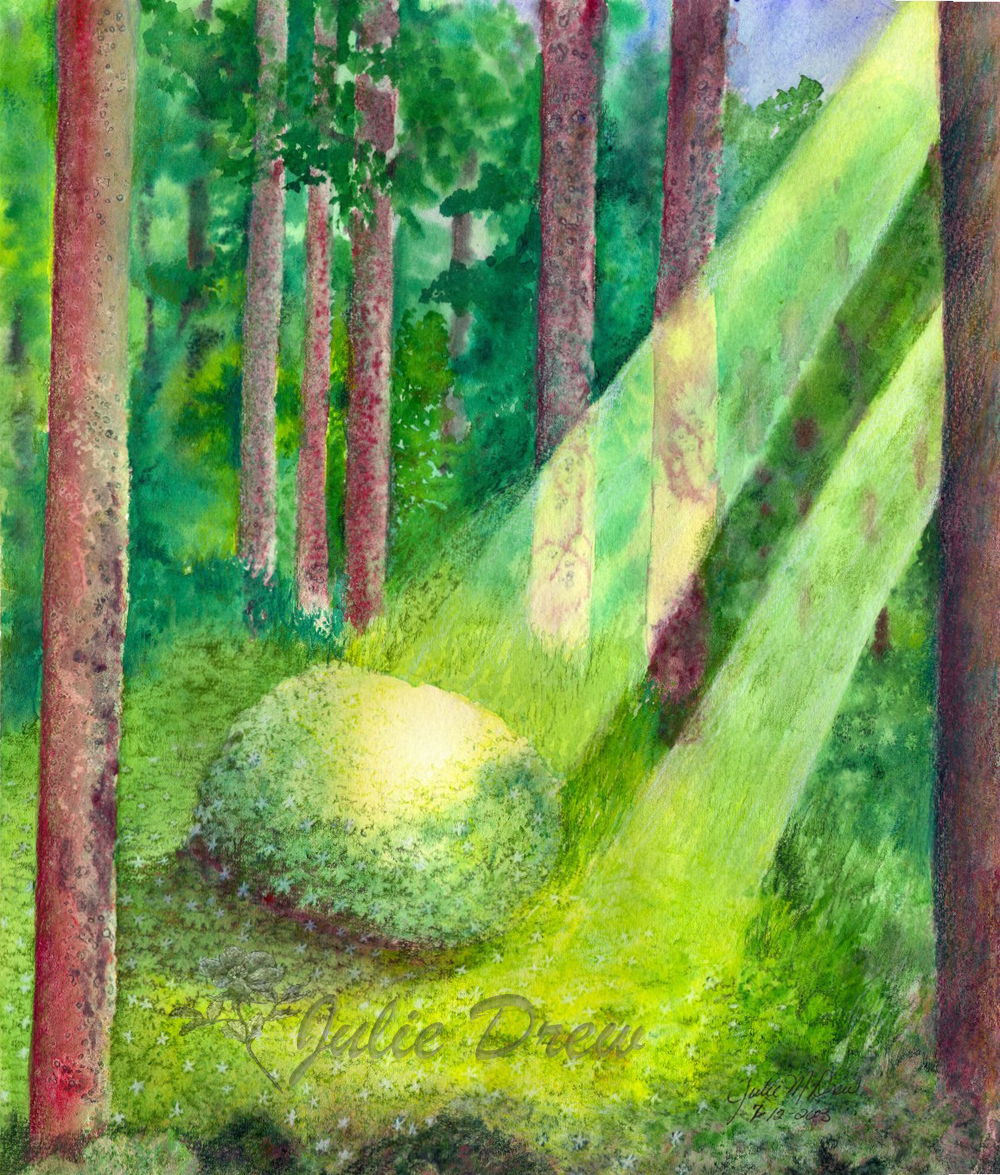 The Holy Place
watercolor, Lyra oil pencil
Framed original 16"x 20"
Jesus said to them (Peter, James and John), I am deeply grieved, even to death; remain here and stay awake with me."
And going a little farther, Jesus threw himself on the ground and prayed, "My Father, if it is possible, let this cup pass from me; yet not what I want but what you want."
Then he came to his disciples and found them sleeping; and he said to Peter, "So, could you not stay awake with me one hour? Stay awake and pray that you may not come into a time of trial; the spirit is willing but the flesh is weak."
Again he went away for the second time and prayed, "My Father, if this cannot pass unless I drink it, your will be done." Matthew 26: 38- 42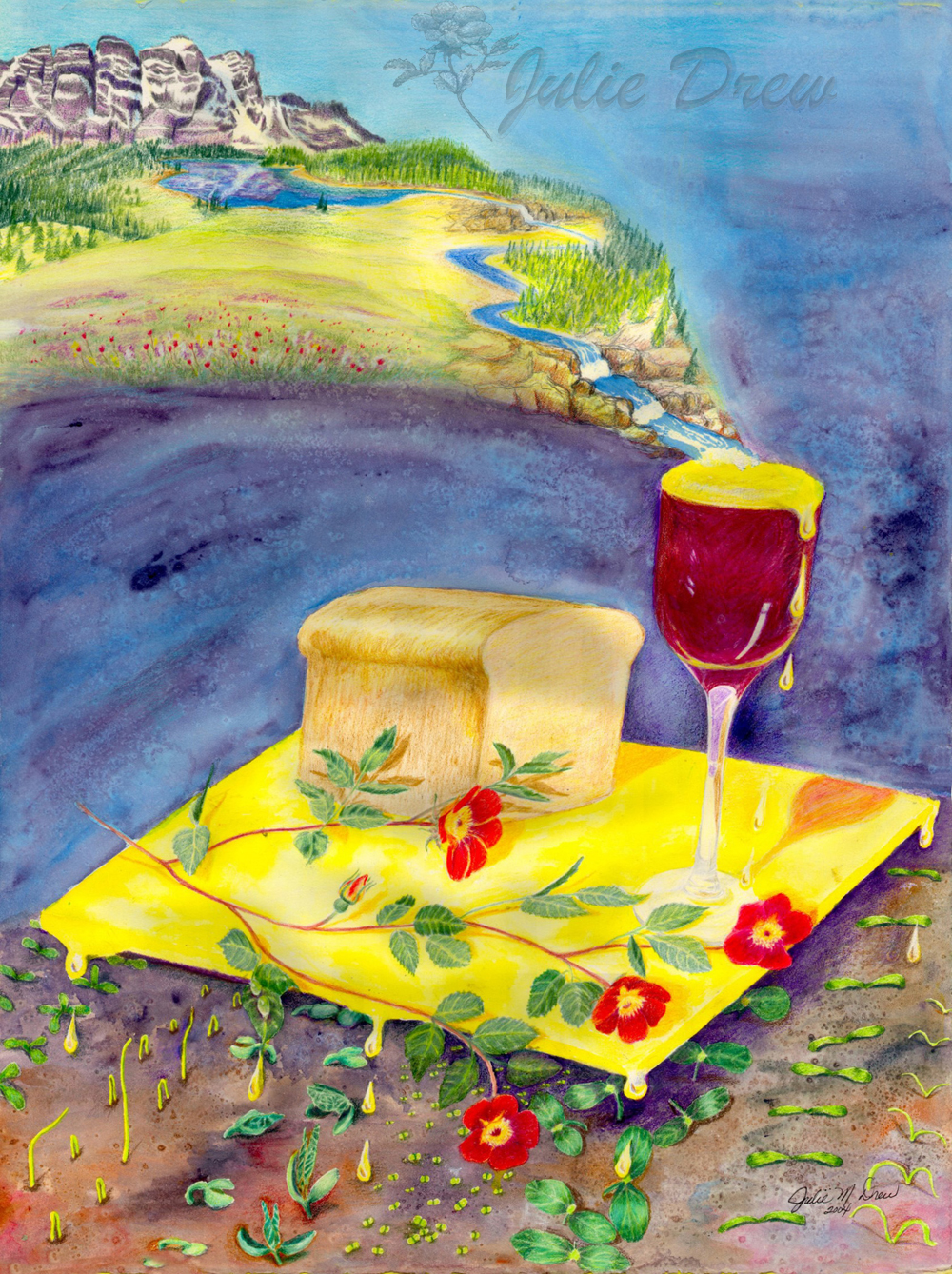 The Blessing Cup
watercolor, colored pencil
Framed original 24" x 32"
The Lord is my shepherd, I shall not want ... He leads me in right paths for his name sake...
You prepare a table before me in the presence of my enemies;
You anoint my head with oil: my cup overflows.
Psalm 23
The cup of blessing that we bless, is it not a sharing in the blood of Christ?
The bread that we break, is it not a sharing in the body of Christ?
I Corinthians 10:16
Resurrection III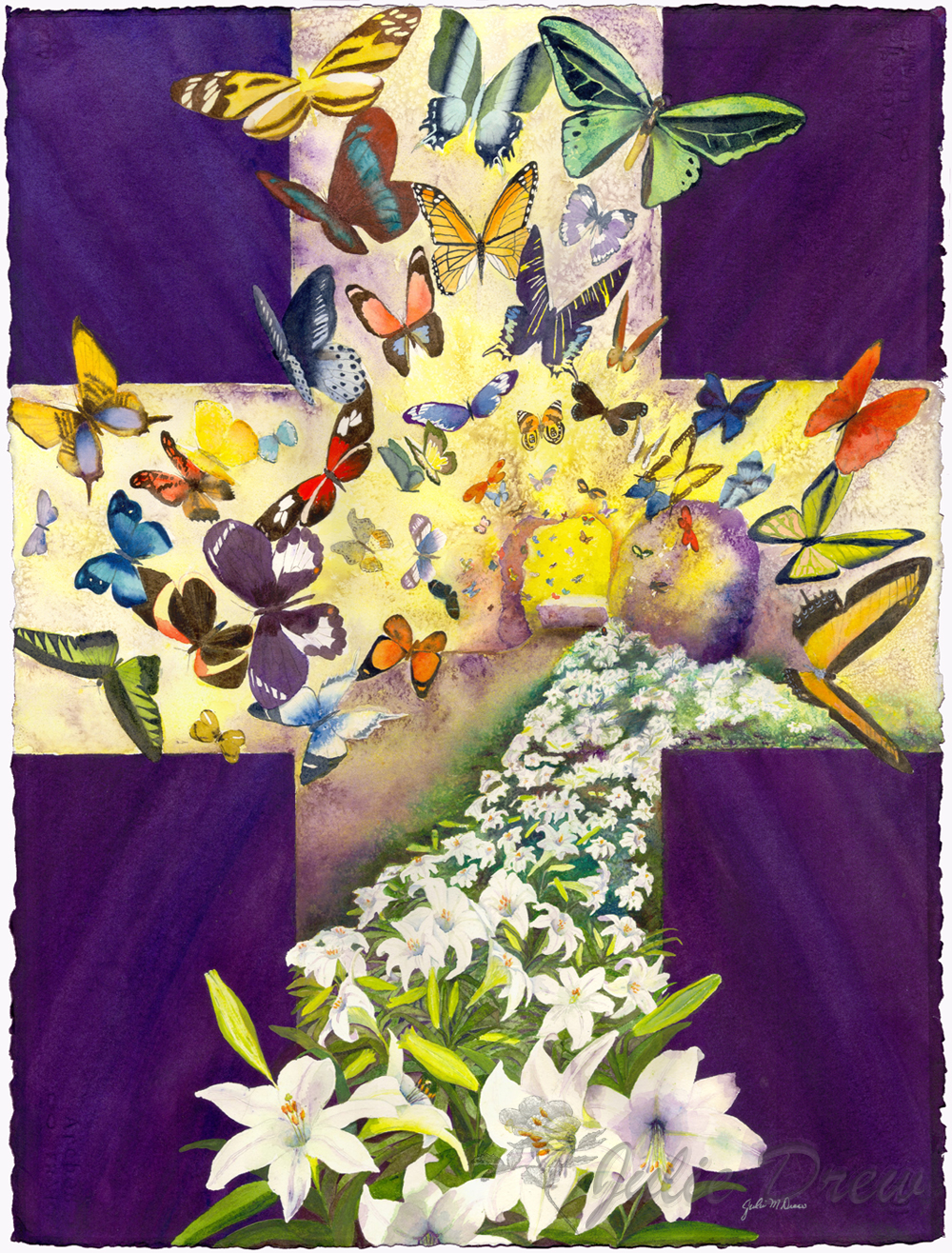 watercolor, colored pencil
Framed original 24" x 32"
As the first day of the week was dawning, Mary Magdalene and the other Mary went to see the tomb. And suddenly there was a great earthquake; for an angel of the Lord, descending from heaven, came and rolled back the stone and sat upon it, His appearance was like lightning, and his clothing white as snow...The angel said to the women, "Do not be afraid; I know you were looking for Jesus who was crucified. He is not here; for he has been raised, as he said."
Mark 15:17-20, 26
Christ is Risen! Alleluia!!