In some of my classes this year, we explored the painting of the northern lights. I have only seen them a couple of times myself, but I know of others who have seen amazing ones. This fall we could see a faint wave of green in the sky in the field by our house. The movement of the green wave was slow, barely discernable. Years ago, when we were driving the Queen Elizabeth Highway (2) at night, we stopped to watch bands of red light weaving across the sky. What an awesome sight to behold! Imagine it with more colors streaming brilliantly across the dark night sky, like a "glorious multitude of angels" singing glory to God in the highest!
In that region there were shepherds living in the fields, keeping watch over their flock by night. Then an angel of the Lord stood before them, and the glory of the Lord shone around them, and they were terrified. But the angel said to them, "Do not be afraid; for see—I am bringing you good news of great joy for all the people: to you is born this day in the city of David a Savior, who is the Messiah, the Lord. This will be a sign for you: you will find a child wrapped in bands of cloth and lying in a manger." And suddenly there was with the angel a multitude of the heavenly host, praising God and saying,
"Glory to God in the highest heaven, and on earth peace among those whom he favors!" Luke 2:8-14
I have added again some of my students work here with the northern lights to help you imagine the glorious multitude of angels.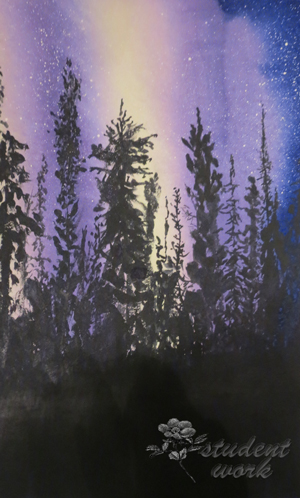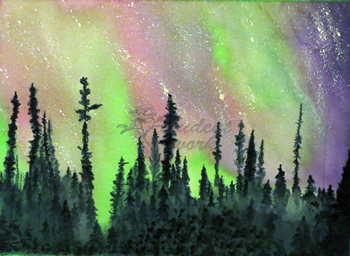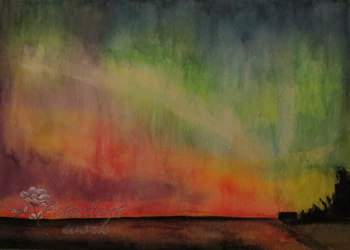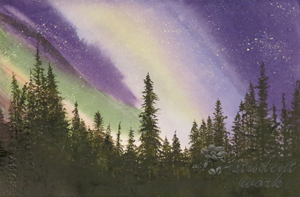 There are a few videos of the northern lights, aurora borealis, on youtube. I selected one in "real time" by Ronn and Marketa Murray. The second is a time lapse one by Maciej Winiarczyk. Enjoy and think of angels singing "Gloria in the highest!"
May you be filled with all the wonder of the glorious song of the angels this Christmas season. Merry Christmas!!