I like reading stories of redemption both real and fiction. I was reading one this morning. And as the lost soul in the story was brought back into the welcoming and loving arms of those who loved her, I was struck again of God's overwhelming love for me. My heart did a happy dance as I read.
As Easter and as spring approach, I think about redemption, transformation, new life and resurrection. I see it echoing in the stories I read, in the buds swelling on the trees and plants beginning to push their way again to the surface.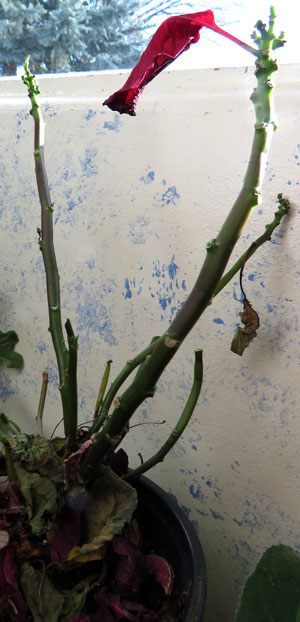 I have been closely watching what looks like a dead poinsettia to see if the tiny leaves will indeed spring forth and the plant will come back to life.
A few years ago, I painted this painting of transformation. A pile of garbage with a plant growing out of it. I have found it interesting to hang it at the art walk, because it invites conversation. A lot of people have thought it was about the garbage in the ocean. It has made people feel sad or depressed, irritated or caused them to laugh.
As I painted it, I was thinking about myself and all the things I do not like about myself, the things I would consider my garbage. So, I put on the painting items that should have gone into my art room garbage or recycling bins. I was thinking about redemption and how God redeems these parts of me with his love. This was then represented by the plant growing out of the garbage.
But as I thought about and even shared it at one of my art and faith retreats, I realized I expected to be transformed; that redemption was about change and becoming new. What if redemption is not just the transformation?
No matter what I do I cannot see past the image of garbage. How can garbage look redeemed? But, what if it is a new perspective or looking beyond the surface?
What if I can learn to love those parts of myself that I see as garbage? God loves me, all of me. Can I learn to love all of me too and see myself with his eyes?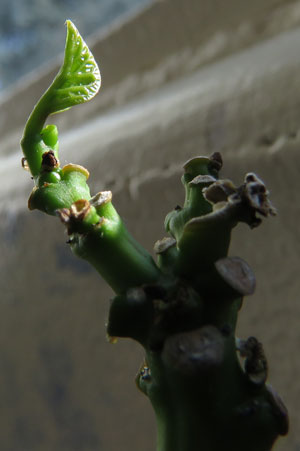 Like the dead Poinsettia, if i am patient with it - and really look, I can see tiny leaves emerging from the stem. I am thankful that God is patient with me and is helping me see things better in my own self.
This new awareness is slowly bringing redemption to new parts of me. Failure – learning to trust God and others, as well as to accept my own limitations. Feeling lazy or unproductive – learning to rest and take care of myself is important work too.
As I look to all the signs of redemption in the world around me, it reminds me mostly that God is redeeming all of me too. He loves me! And that makes me want to dance and sing.
In what ways do you see God's redemptive work in your life?