For this commissioned painting, Lilac Garden, I recently finished, I imagined a place of peace and rest. I would like to sit and enjoy a garden like that. I am so glad they liked the painting!
I used eggshells and sand for the texture of the wall and sawdust for texture in the ground. The stone path was also of eggshells. It is a fun way to create texture. The bench was made from acrylic paint I mixed and poured out on plastic so it would be like a "skin" of paint. I cut out the bench and attached it over the painting for another 3D effect.
As I write this, I am sitting on our deck in the cooler morning hours, listening to the variety of birdsong around me. and enjoying the beauty of the flowers in planters. This year for one of the pots, I chose a flame colored dahlia which I started to paint in watercolor to capture its translucent, brilliant beauty. I am including a short video here of the first part of the painting.
Since Easter, I have been noticing our resident hawk. I noticed when it looked like he got a mate. Since June started, I have been too preoccupied to notice, but this week, I discovered that the hawks have now become a family of five. They were all sitting in a tree together sitting perfectly still as the sun came up. Alittle while later, two of the younger ones were calling out and flying in circles like two children at play. I had wondered why I was hearing the call of this bird more frequently throughout the neighborhood. The "youngsters" actively and incessantly voice their flights, more so than the parents.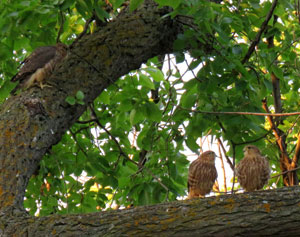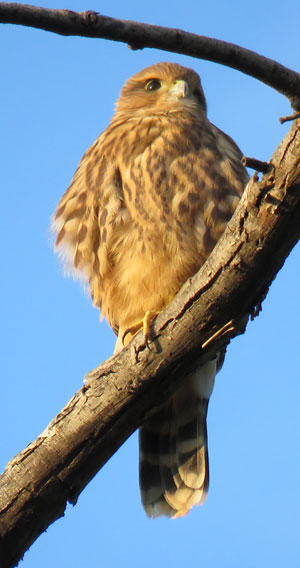 I love that even in the city, we can see and hear the beauty of the natural world if I stop long enough to notice, to sit and just "be present."
The idea of sitting still is foreign to our culture. It has taken work, but I find myself sitting and not feeling a need to always do something. I must admit that I easily fall back into doing mode and wander around lost when I have nothing pressing on me to get done. I can feel the difference when I am racing around, exhaustedly trying to get a lot done; when I push myself past where I should have stopped or rested. But I find if I maintain being present as I work, pausing to smell the flowers and listen to the birds, I am more awake, alert and relaxed to deal with whatever comes my way. It is more peaceful and I feel content.
In returning and rest you shall be saved; in quietness and in trust shall be your strength. Is 30: 15
We enjoyed a week with our children and grandchildren around. I had lots of opportunity to practice just being present with everyone and enjoying the time we had together. Like the young hawks, children have a lot more energy and keep the rest of us moving. So thankful for the visit with all of them!