I saw the northern lights again! And it was just as exciting and beautiful as last February. (But not as cold.)
I woke a little after 2:15 am on Thursday morning (to use the washroom), and while I was awake I thought of checking the status at aurorawatch.ca, since it was a 50% yellow alert for seeing the northern lights as I was heading to bed. The status had moved up to a red alert (70% chance) after midnight!
I was too tired to drive outside of Edmonton. It takes 45 minutes to get away from the light polution. What to do… As I pondered it, I heard one of my daughters moving around. She was just heading to bed and had to get up early, so she declined going with me.
So, I thought I would see if there was any faint sighting in the field by our house. I stepped out on our back porch and looked toward the north. I saw green bands dancing low to the horizon between the trees! They were visible right here. My heart did a happy leap and filled with anticipation and thrill. I had to share it with someone.
I went back inside to get my other daughter, Natalia, and we went to the field together to enjoy the show. I took a few pictures and we lay down in the grass and just watched the sky dance until we were too cold. (From about 3-4 am)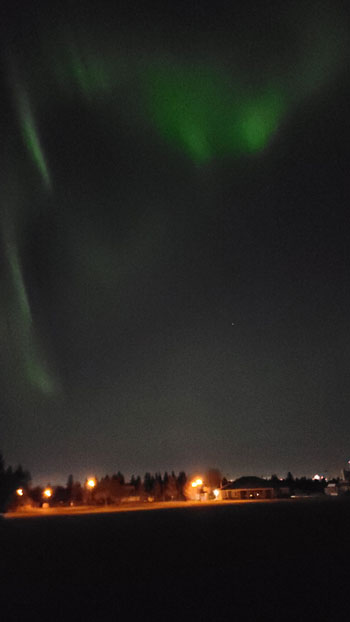 It may not have been as vibrant with all the Edmonton lights dimming it, but it was still beautiful and pulsing and dancing across the sky, changing patterns. Some of it looked like angel wings, some columns of lights piercing the darkness.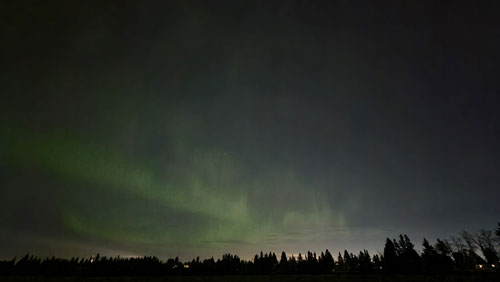 There are some gorgeous photos of the Aurora in the facebook group Alberta Aurora Chasers, if you want to check out some others.
I am still learning to use my new phone camera and the settings that worked outside the city didn't work that morning, but I did some adjustments and have something to remember it with.
I went out a couple of other times to look for the northern lights - but we missed their showing. I did, however take some lovely one of the stars as I started learning what kinds of photos my new phone can take.