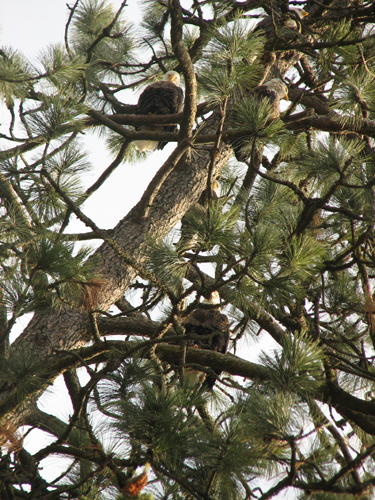 I love watching birds in flight. The beautiful, majestic bald eagle soars high riding the wind, then dives down toward the water to catch a fish. This is the time of year that people start watching for eagles at Wolf Lodge Bay on Lake Coeur d'Alene, mid November to end of January, with the peak between Christmas and New Years. Last year peaked 217 eagles were counted on December 30 at Wolf Lodge Bay. The eagles come to feed on the kokanee salmon. Several birds can be spotted on the same trees. How many do you see in the photo here? I count 5.
Isaiah wrote: "but those who wait for the Lord shall renew their strength,
They shall mount up with wings like eagles,
They shall run and not be weary, They shall walk and not be faint."
The closest I come to flying is in an airplane. I recently took a trip to Colorado and on one of the flights we experienced a lot of turbulence (more than I remember ever experiencing before). I will admit that a plane dropping what feels like 2-3 feet suddenly and shifting and swaying makes me extremely nervous, terrified. I have an active imagination that can picture way too many scenarios. I realized that I could panic or I could trust the pilot, who had probably flown through plenty of turbulence, and pray. So I closed my eyes and relaxed. I allowed myself to ride the waves of air. It was like a rollercoaster up, down, toss to the right, now the left, drop and up again...It was not nearly so bad as I thought it would be.
And as I sat through it and relaxed into it, I began to think about my fears. How many of my fears are based on being out of control? How much do I not enjoy the things that put me in that position, like down hill skiing, roller coasters, huge water slides. Yet as an artist, very little of an art business is really under my control. I cannot predict what will sell or touch someone's heart. I cannot know which classes people will want to take. Oh I try and I stress myself out over it all.
Can I learn to ride the wind with my Lord?
Soaring with the wind like a bird on the wing
Can I learn to let go, close my eyes and trust
Ride the waves of air
Up and down, sideways, up
Trusting He will not let me fall
Let go and just ride
When relaxed it is not nearly so bad
As I thought it would be
Could I learn to enjoy it?
Would that be going too far?
Let it go.
Trust.
Relax in His arms on the waves of the air
Trust and relax
Let it go, that control
Let it go
On Eagles' Wings, Watercolor
(Above) 7 in x 11 in
$180.00