The sketch above is, Jade Evelyn, our first granddaughter. She was born on Friday, March 4, 2016 at 10:20pm and weighed 6 lbs, 8 oz. I had the privilege of helping the new little family out last week in Calgary. Our son, Thaddeus and Danielle, are doing well in their new roles, and it was such a joy to watch them adore little Jade.
I found myself quite able to just sit and be with Jade. Have you seen those tiny little hands and feet in a new born? I marveled at the wonder of Jade's creation. She had so recently been "knit together in her mother's womb" and indeed is "intricately and wonderfully made." What I wrote and sang about Psalm 139 last time took on new meaning.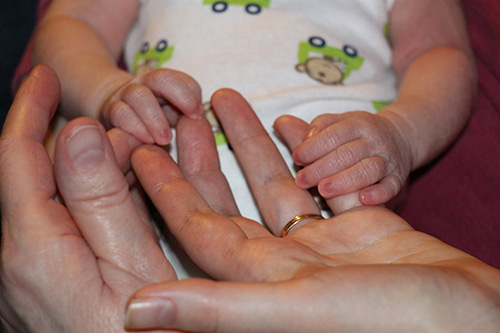 I, who like to do, had found myself quite content to just sit and be with this little one, this beautiful creation and gift from God. She doesn't have to do anything. I already love her and like to be with her.
And as I sat and pondered all of this, it occurred to me that I am like this with God. He loves and cherishes me just as I am. I don't have to do anything or achieve anything to receive that love. It isn't conditional. He loves me just as I am.